Published on February 9, 2021
–
Updated on February 9, 2021
Jean Kempf, professor of American civilization, researcher at UMR Triangle, laureate of the American foundation French-American Cultural Exchange (FACE), partner of the French Embassy in Washington.
As education and international mobility are particularly affected by the global health crisis (interruption of studies, suspension of certain programmes, etc.), international collaboration needs to be rethought and adapted. The FACE Foundation, in collaboration with the French Embassy in the United States and the United States Embassy in France, has therefore launched a call for proposals to encourage initiatives aimed at developing Franco-American online courses. Jean Kempf from our UFR Languages offered a master 1 course with Rachel Sailor from the University of Wyoming, his service exchange partner in 2018. This project was selected by the FACE Foundation and will materialise in the second half of 2020/2021.
Developing a joint course is an enrichment of the training offer for the two establishments and will allow French students to experience American teaching methods.
Pedagogical approach

The course will focus on the cultural history of the United States in the 1950s, in the form of a weekly seminar in English. Based on virtual exchanges between two teachers and their students, the course will consist of four types of activities:

Digital resources (scientific articles, extracts from films, programs) selected for each sub-theme of the seminar;
A series of brief introductory presentations by the 2 professors;
A series of seminar discussions during synchronous videoconferences, involving an organised participation of the two groups, emphasising the interactions between the differences or similarities of perceptions of each;
The achievement of a final project consisting of the creation of an issue of a fictitious university journal. Each student will be paired with a student from the other university, and they must work in pairs to write an article on a chosen topic. The topics and drafts will be discussed in synchronous videoconference. The rest of the work will be done by the students at their own pace. Students will assess each other and act as an editorial board.

Specialists in American studies will also be invited to speak, to share their expertise on certain themes.

Project expectations

With this experience, Jean Kempf and Rachel Sailor offer their students a framework for:

Confronting different approaches to subjects of American studies (French and American students do not have the same references);
Learning to interact directly with students from another culture working on common subjects;
Having a hands-on approach to academic production with collaborative work to conduct research, write a scientific article, and practise peer review.

This joint course also allows students who would not have the opportunity to study in the other country, to discover differences in approaches, methods and ways of thinking about historical events.
This format should be stimulating for the students, transforming them into actors in the course. Project-based teaching, with the creation of an issue of a fictitious journal, empowers them and develops their autonomy. This approach is also very satisfactory for teachers, inviting them to "step aside" from their usual practices.
See you at the end of the semester for feedback on this experiment, which will perhaps inspire other components and teachers …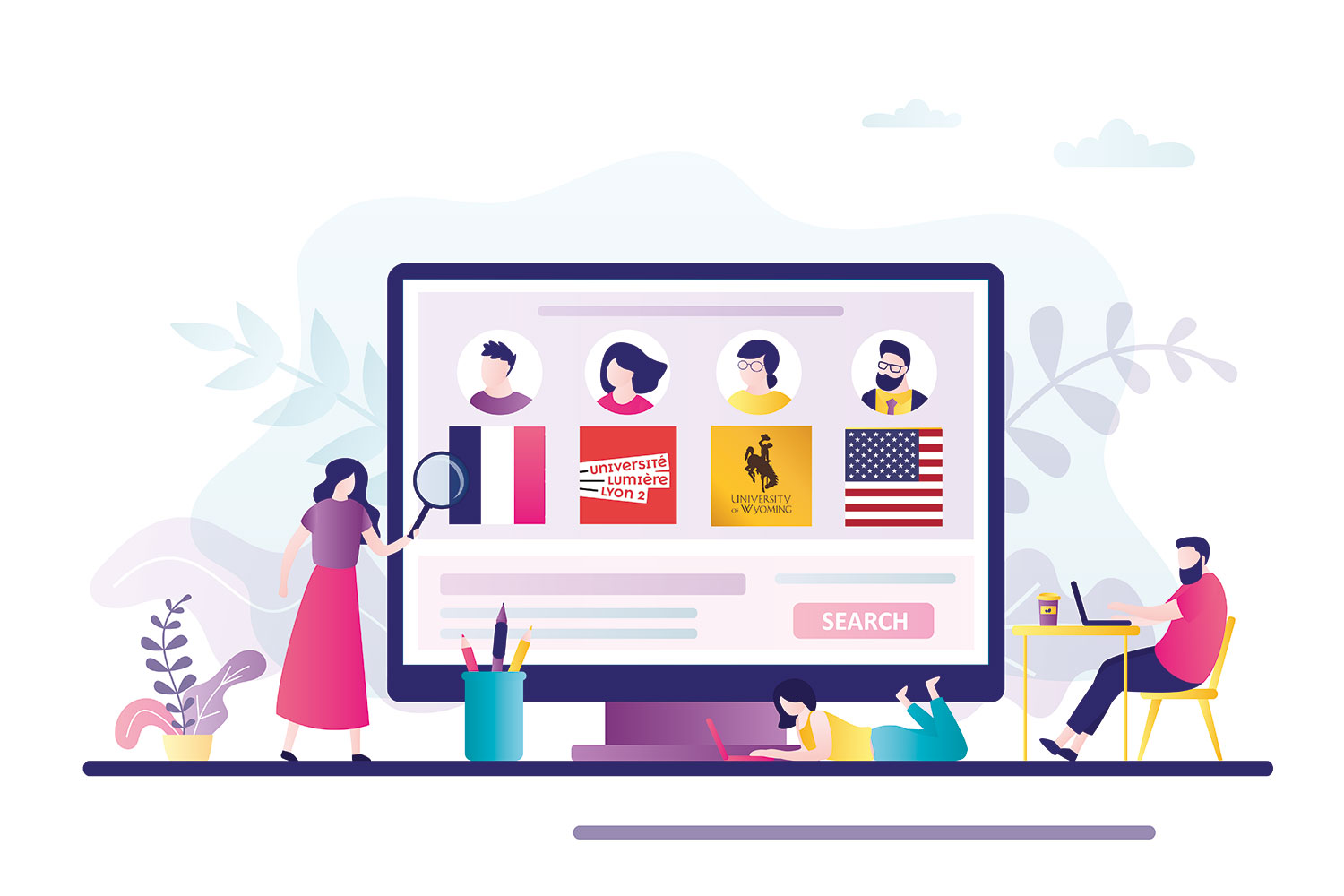 Contact
UFR Langues
Jean KEMPF
, Professeur de civilisation des États-Unis