Last updated on 24 juin 2020
Published on June 24, 2020
–
Updated on June 24, 2020
Université Lumière Lyon 2's publishing house, les Presses Universitaires de Lyon or PUL, has been publishing works in the Humanities and Social Sciences since 1976.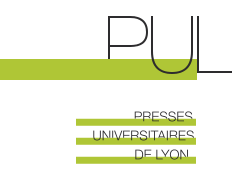 The "Presses Universitaries de Lyon", more than 40 years of publication.
http://presses.univ-lyon2.fr

Their catalogue, which includes more than 900 titles, is enriched by some twenty new titles each year and covers many fields: Literature, Aesthetics, History, Sociology, Anthropology, Political Science, Epistemology and Gender Studies.

The PUL sits in the heart of the historical campus Berges du Rhône, in the Claude Bernard complex, under the vigil of Athena and Clio.

In their bookstore, as well as on their website, both existing titles in their collection and new releases available. Production continues: there are some twenty new books each year, and a host of projects for the years to come!